I was fiddling around on the Internet (shocker!) looking for some inspiration for a new post, when low and behold, I found a link-up for today. The Happy Wives Club asked everyone to talk about why they love their husbands. How fun is that?
As a bonus, Danny's Song by Loggins and Messina was currently on Pandora. "I'm so in love with you honey! … In the morning when I rise, bring a tear of joy to my eyes."
My husband and I have been married for eight years, together for almost 15.  We've had our fair share of fun and not-so-much fun.  But I am still totally head over heels in love with him.   Here are ten reasons why:
1. He is intelligent, handsome and full of awesome.
2. He's a doer. He'll paint, install a dish washer, change the oil in the cars, hang a ceiling fan, whatever we need done around the house.
3. He puts clean socks on when I go to rub his feet because he knows I don't like to rub feet that have been in shoes all day.
4. He supports me in all that I do and will take off work (if he can) when I have a trip or conference to attend.
5. He can be just as silly and dorky as me, hiking up his pants, talking in a funny voice and dancing around.
6. Watching the kids faces light up when he walks in the door at the end of the day makes me fall in love with him a bit more every day. He scoops them up and gives them hugs and kisses when all he wants to do is change his clothes and sit for ten minutes and decompress.
7. He tolerates my overreactiveness (Yes, I just invented a new word) and my occasional hormonal outbursts.  Or maybe he just ignores them.  Either way, I appreciate it.
8. He is 98% responsible for cleaning up the cat poop and barf that occurs in our house. He could yell at me and make me do it more, but I think he just curses at me in his head and does it anyway. I am a lucky woman.
9. He snuggles with me and scratches my back almost every time I ask.
10. He married me! It took a bit of convincing but I think he made the right choice. *Wink*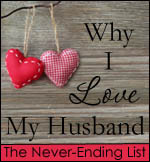 Join us! Write a post & link up on the Happy Wives Club site.
Similar Posts: