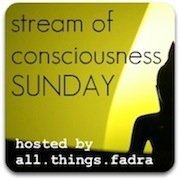 Tonight my WonderBug was asking who made his toes. (Love this kid and his silly questions.) At first I told him God made his toes, but then I said, "well actually, mommy and daddy made those toes." As he always does these days, he asked "Why?"
My husband jumped in and said, "Because mommy and daddy made you. You know you grew in mommy's tummy right?"
"Why?"
"Because we wanted a baby"
"Why?"
"Because we wanted someone like you to love and hug and snuggle with all the time."
Then my mind started to wander to the 2+ years it took us to conceive Bug. The struggle, the heartache, the babies who were never meant to be. We've come a long way since my first miscarriage.
I was taken aback by how a simple statement to my three year old could jolt me awake with gratitude. I have a beautiful family — a son and a daughter whom I love with my whole heart. For that, I am eternally grateful….for where we've been. Because without it, we wouldn't be where we are today.
******
Want to join the Stream of Consciousness fun? Here are the rules…
Set a timer and write for 5 minutes.
Write an intro to the post if you want but don't edit the post. No proofreading or spellchecking. This is writing in the raw.
Publish it somewhere. Anywhere. The back door to your blog if you want. But make it accessible.
Add the Stream of Consciousness Sunday badge to your post (available on Fadra's site)
Visit your fellow bloggers and show some love.
Similar Posts: