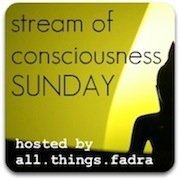 It's 7:30 in the a.m. and I've been up for an hour. Last night's sleep was fitful as I have a migraine I can't seem to get rid of. Yet, even though I'm exhausted and really want go go back to bed…I'm enjoying my dark, rainy morning because I'm with my kiddos.
Bug and I had Honey Nut Cheerios (plain for Miss E.) and now he's quietly playing with trains. No doubt in about 20 minutes, he'll ask to watch Phineas and Ferb. We've seen every. single. episode. and then some.
Miss E. now has eight teeth, four of which have come in over the last two weeks. She's been a bit crankier than usual and then, bless her heart, got her first tummy bug last week. Even for being sick, she was such a sweetheart. I hated seeing her like that, but it she was over it in less than 18 hours, which was awesome considering I really don't do vomit.
She's now sitting in her high chair talking away. Bah. Bah. Bah. Big Grin.  I can't take that cute face.  She just makes me so incredibly happy.
Bug is singing "Jingle Bells" and begging me to make a circle with his track. So off I go, with an ice pack on my shoulders and all the lights dimmed. I feel like crap, but I have sweet, cute babies and for that, I am grateful.
Want to join up with SOC? Here are the rules:
It's five minutes of your time and a brain dump.
Set a timer and write for 5 minutes.
Write an intro to the post if you want but don't edit the post. No proofreading or spellchecking. This is writing in the raw.
Publish it somewhere. Anywhere. The back door to your blog if you want. But make it accessible.
Add the Stream of Consciousness Sunday badge to your post.
Link up your post on Fadra's blog.
Visit your fellow bloggers and show some love.
Similar Posts: